The first Ensolva Adria Procurement Event in Opatija gathered experts in procurement, supply chain, suppliers, close collaborators, and all those who want to improve their business in this area. The event was attended by 180 participants from the largest domestic and regional companies. It was an event dedicated exclusively to procurement, but also to various interesting aspects that make procurement special.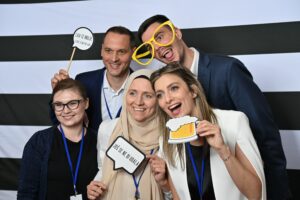 "We have been in the procurement market for the past ten years, and compared to other business processes, procurement is on the margins, regardless of being one of the most important links for achieving business success. In addition, access to information and procurement education is quite modest and monotonous. We consider procurement to be a dynamic and creative job, which is why we wanted to bring new ideas, encourage thinking and strategies for procurement optimization, as well as networking and sharing experiences with a focus on practical ones," explained the organizers, Ensolva team of RIS Software. Judging by the participants' reactions, their plan has been very successful.
BILMAN TAKES PROCUREMENT OUT OF ITS SHOES
The broad schedule of inspiring lectures, workshops, and discussions was particularly praised, and the entire event, with its rich entertainment program, left everyone speechless.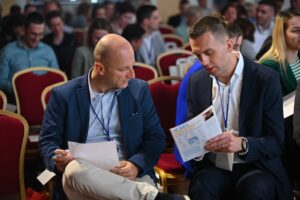 The event was opened by Mirela Senica, president of the Croatian Procurement Association, who presented the activities and plans of the association aimed at promoting procurement in domestic and international circles. Dario Riđan, Head of Strategic Procurement at Ericsson Nikola Tesla, shared his experiences in the digital transformation of procurement. Adnan Misimović, founder of Porfi BI from Bosnia and Herzegovina, highlighted the importance of analytics and revealed practical tricks for its use in procurement. Ivan Tomljenović introduced the role of the new technological service platform ePlati, and Robert Čačković presented the development of procurement from a start-up to a corporation using the example of Bugatti Rimac. João Botelho, President of the Portuguese Procurement Association and Head of Procurement at Euronews, spoke about the role of procurement in the media, while Olaf Holgrefe, Head of the International & Affairs department at BMEnet GmbH, led the participants into the turbulent waters of the supply chain.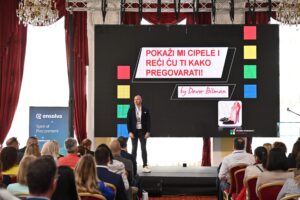 Davor Bilman introduced the participants to the world of personality assessment and negotiation power in an extremely interesting and humorous way through his workshop titled "Show Me Your Shoes, and I'll Tell You How to Negotiate." Psychologist Barbara Marot encouraged the attending procurers to reflect on whether they are the preferred customer to their suppliers. Hadisa Bajrić, a professor at the Faculty of Mechanical Engineering in Sarajevo, entertained the participants by applying game theory to procurement and revealed how the results of their decisions depend on the reactions and moves of other involved parties.
Adria Procurement Event Panel
At the very end, a particularly interesting panel discussion on employee motivation in procurement kept all the participants engaged. Leading experts Darko Šepić from Adris Group, Mirela Senica from IBM, Nataša Cikač from Cronata, and Dario Riđan from Ericsson Nikola Tesla Group discussed issues related to human resources, employee motivation, the lack of procurement education, and communication with colleagues from other departments.
ERICSSON NIKOLA TESLA AS A MODEL AND EXAMPLE OF PROCUREMENT DEVELOPMENT IN CROATIA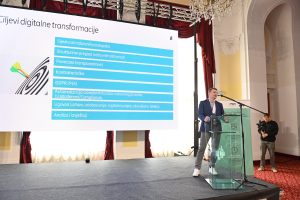 In order to promote procurement development, Ensolva prepared a special recognition for digital procurement transformation. The first recognition of this kind in our region was awarded to Ericsson Nikola Tesla, with the explanation that their procurement development model should serve as an example and inspiration to other companies, regardless of their size and industry. The experiences shared by Dario Riđan, as the Head of Strategic Procurement in that company, demonstrated the importance of adapting to new technologies in order to improve business efficiency and increase competitiveness.
The Adria Procurement Event showed how important an event of this type is for the exchange of knowledge and experience, but also the generation of new ideas and trends in order to achieve success in procurement.