The two-day PIT Krajina 2023 conference, "Discover Krajina, Our Opportunity for Excellence," organized by the Bravaria Industrial Marketing agency, took place in Bihać. It brought together many representatives from manufacturing, industry, and technology sectors, presenting all the important and current knowledge of this industry. PIT events have evolved into an important branded tradition of networking and have become a driving force in the business community of Bosnia and Herzegovina. We are proud to have been part of this story with our lecture by Hari Zamlić titled "What Game Are You Playing?", in which he presented game theory in business in his distinctive manner.
This event was divided into two categories: an expert conference and a business fair, providing participants and visitors with opportunities for networking, collaboration, knowledge exchange, discussion, expert workshops, and presentations.
During the official opening ceremony of the event, speeches were delivered by the Mayor of Bihać, Elvedin Sedić, Advisor to the Prime Minister of the Una-Sana Canton, Samir Jašaragić, and Samira Avdić, the Director of the Bravaria Industrial Marketing agency. The opening ceremony was attended by over 100 participants, including representatives from the manufacturing, industry, and technology sectors, government institutions, members of the academic community, and the media. Over the course of two days, almost 150 people attended the event.
Did you know that Bosnia and Herzegovina is the second country in the world in terms of the size of its diaspora? How can we best harness this strength? Can the diaspora support the development of Krajina? These are all questions that experts and professionals exchanged opinions on during the first panel discussion, featuring Mirela Kadić (Euromonitor), Aldin Veladžić (LTH Castings), Ejub Topi (E.T. CONSULTING), Samir Vildič (WİEBERR & BPI), and Asmir Bajrić (Long Wood).
Certainly, the business community is also interested in answers to the question of how to stop the exodus of the workforce, which experts and professionals, based on their knowledge and experience, discussed: Almir Gvožđar (GAT d.o.o), Dženan Džafić (Siac-Group), Nermin Alešević (AirVent), Larisa Duraković (Syngenta).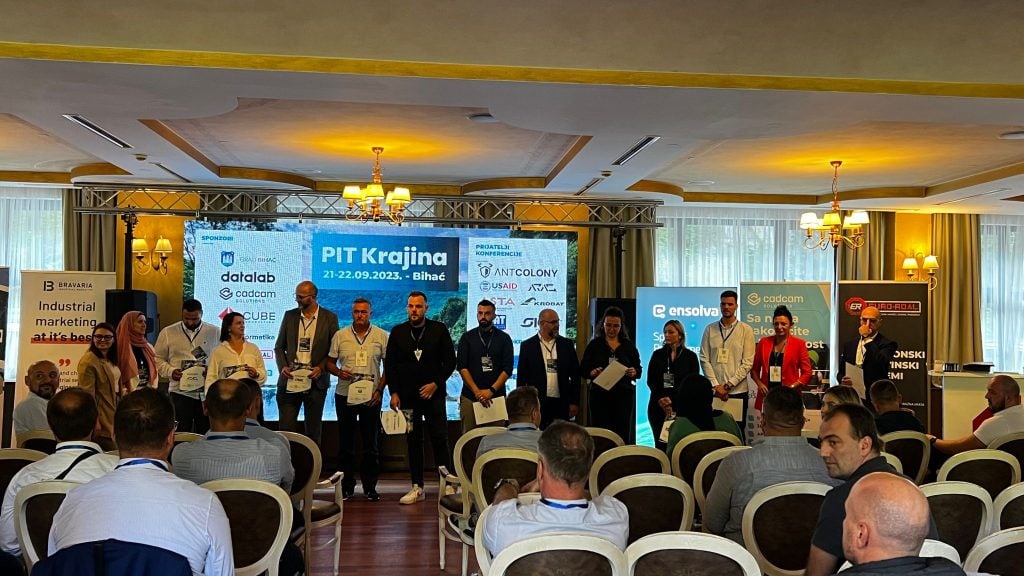 During two thematic panels, participants offered a broader perspective and multidimensionality of the issues, as well as a clear stance on the need for a complex and thoughtful approach to solving them. Additionally, unanimous assessments were made about the issue that is not often discussed – the mindset of people who leave Bosnia and Herzegovina and settle in another country while retaining a local mindset that continues to hinder their progress. The consensus was that this must change.
On the second day of the PIT Krajina 2023 event, participants enjoyed practical and educational, interactive, and expert-led workshops on very interesting topics. The workshop "What We Need to Know About Export Opportunities to Germany – Practical Examples" was led by Mirela Kadić, Diaspora Export agent, and Nedim Jahić, while the other workshop was "Marketing and Sales Tools for Accessing International Markets, with an Innovative Approach to Product Development," led by Samira Avdić, Director of Bravaria Industrial Marketing agency, and Adis Muminović, a professor from the Faculty of Mechanical Engineering.
The conclusion of the conference is that the success of business lies in constant innovation and digitalization, employee education and motivation, and collaboration. We are pleased that Ensolva could contribute to such a positive message and support experts from our neighboring country in promoting positive changes and progress in business because together we can achieve more!